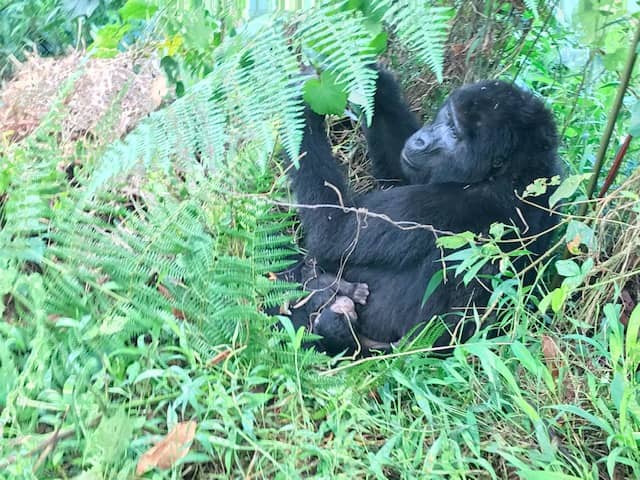 Mubare group, oldest gorilla family in Bwindi gets new baby gorilla October 2019 –Travel News
Mubare group, oldest gorilla family in Bwindi gets new baby gorilla October 2019 –Travel News
Mubare group, oldest gorilla family in Bwindi gets new baby gorilla on the 16th October 2019 birthed by Businza a female gorilla in the group. Both the baby gorilla of Mubare and the mother are reported to be in good shape.
Oldest gorilla family in Bwindi Impenetrable National Park known as Mubare gorilla family received a new baby gorilla on the 16th October 2019. Mubare gorilla family was the first habituated gorilla family in Bwindi opened up for gorilla trekking in Uganda in the year 1993 after a 2 years habituation process. The group is named after the beautiful Mubare hills where it was first sighted, till date the Mubare gorilla family is found within the Buhoma sector of the park.
Yesterday the 16th of October 2019, Mr. Peter Mbwebwe, the Uganda Wildlife Authority Warden in Bwindi Impenetrable National Park confirmed the birth of a new mountain gorilla in the Mubare family.
"We celebrate a newborn in Mubare group. Mother Businza and baby in good shape," stated Mr. Mbwebwe.
The good news as Bwindi gets new baby gorilla come as a success to the strong conservation efforts by the Uganda Wildlife Authority as well as all conservation partners.
Mountain gorillas in the previous year were moved from the IUCN list of critically endangered species to endangered; at least a step to success and this birth comes handy as an addition to this conservation success story.
Previously, mountain gorillas were known to total to about 880 individuals, however with the latest census from the Virunga Mountain parks, the gorillas are known to be about 1004 individuals. This total is not inclusive of latest census information from Bwindi National Park that could increase the numbers. As Bwindi gets a new baby gorilla the future of the Mountain gorillas gets better compared to the risk of extinction they faced not many years ago.
Bwindi Impenetrable National Park has the highest population of habituated mountain gorillas and therefore a perfect choice for a gorilla trek in Africa.
What is the cost for a gorilla trekking safari in Uganda?
The Uganda Wildlife Authority (UWA) is set to increase Uganda gorilla trekking permit prices from the current USD 600 – USD 700 for foreign non residents and USD 500 –USD 600 for foreign residents as of the 1st July 2020. Currently, Uganda gorilla trekking safaris are sold at 600 USD per person per trek for foreign non residents and USD 500 for foreign residents for travelers above the age of 15.
This is an increase of USD 100 for each permit. The permit is valid for a single trek with a maximum of 1 hour in the presence of the elusive Mountain Gorillas. Even with this increase Uganda still stays the best option for gorilla safaris in Africa as its still USD 800 less than a gorilla permit in Rwanda.
The gorilla permit price is a general price for the two Uganda gorilla safari destinations of Bwindi Impenetrable National Park and Mgahinga Gorilla National Park.
Why trek Mountain gorillas in Uganda
Uganda is host to the largest population of Mountain gorillas in the world with half of the total in the country.
Mountain gorilla trekking in Uganda is cheaper compared to the neighboring country of Rwanda with permit prices at 1500 USD. The neighboring Congo also has Mountain gorillas though has been politically unstable despite its gorilla trekking permit being sold at USD 400 -450 in the low and high seasons respectively.
The Mountain Gorilla tracking experience of Bwindi Impenetrable National Park is much more of an experience itself alongside seeing the gorillas. The park rises on an elevation of 1,190 to 2,607 meters giving a mystical challenge to trekkers. The forest itself is an amazing place to visit with several flora and fauna species.
Mgahinga Gorilla National Park is the only Uganda safari destination where Mountain gorillas co-exist with golden monkeys. As an add-on activity, golden monkey trekking is the best option and much amazing to glimpse at these playful monkeys.
For avid birders on Uganda birding safaris, the two parks for mountain gorilla trekking are the best parks for bird watching and seeing the Albertine rift endemics.
Uganda is the only world destination that still has mountain gorillas that are not fully habituated and therefore clients can opt to go for mountain gorilla habituation. This offers than chance to spend four hours rather than one hour studying the behavior of these giants and probably their real before in the wild without getting used to human beings. Mountain Gorilla habituation costs USD 1500 per person.
Other Gorilla Families in Uganda
Habituated Gorilla Families in Bwindi Impenetrable National Park
As per September 2019, Bwindi Impenetrable National Park Uganda is home to 19 gorilla families found in the four gorilla trekking sectors and these are;
Rushegura, Habinyaja, Mubare and Katwe Gorilla groups in the Buhoma Gorilla trekking sector
Bitukura, Kyaguriro, Mukizo and Oruzogo Gorilla groups in the Ruhija Gorilla trekking sector
Bishasho, Nkuringo and Christmas Gorilla groups in the Nkuringo Gorilla trekking sector
Nsonji, Mishaya, Bweza, Kahunjye, Businjye, Rwiji, Muchunguzi and Bikyinji Gorilla groups in the Rushaga Gorilla trekking sector
Habituated Gorilla Family in Mgahinga Gorilla National Park
Mgahinga Gorilla National Park is the smaller Uganda gorilla safari park with one gorilla family known as Nyakagezi Gorilla Family. The Nyakagezi gorilla family has 10 family members including led by silverbacks Mark and Mafia who took over from their father silverback Bugingo who now happily plays the role of grandfather; there are 2 other silverbacks known as Rukundo and Ndungutse, 2 female adults known as Nshuti and Nyiramwiza and 3 youngsters.
This group is unique for gorilla trekking because the family has 6 silverback gorillas living in harmony within the same group; this is a unique family of all the gorilla families in Uganda.
Recommended Uganda gorilla safaris
3 days Uganda gorilla safari Bwindi
3 days gorilla habituation safari Uganda
4 days Bwindi gorilla trekking flying safari
5 days gorilla and white water rafting safari
5 days Bwindi gorilla safari and Queen Elizabeth wildlife tour 
In case you would love to book a gorilla safari to Uganda you can reach us on these emails – wildjungletrails@gmail.com, tours@wildjungletrails.com or call us on (+256) 777690798 / (+256) 414663115.
Authored By  Wild Jungle Trails Safaris