Habituated Wild Gorilla Families to trek in Uganda, Rwanda and Congo
Habituated Wild Gorilla Families to trek in Uganda, Rwanda and Congo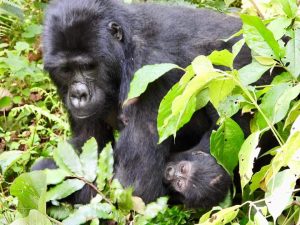 Each of the 5 national parks that are host to gorillas has several gorilla families or groups. Gorilla families are formed within the habitat with each family being led by a dominant silverback gorilla. They are known as silverback gorillas because of the silver hair that develops on their backs when they grow older. A habituated gorilla family is one that has gone through the habituation process of about two to three years and is familiar with the presence of human beings. Here is a list of all the gorilla families in each gorilla habitat;
Habituated Gorilla Families in Bwindi Impenetrable National Park
As per September 2019, Bwindi Impenetrable National Park Uganda is home to 19 gorilla families found in the four gorilla trekking sectors and these are;
Rushegura, Habinyaja, Mubare and Katwe Gorilla groups in the Buhoma Gorilla trekking sector
Bitukura, Kyaguriro, Mukizo and Oruzogo Gorilla groups in the Ruhija Gorilla trekking sector
Bishasho, Nkuringo and Christmas Gorilla groups in the Nkuringo Gorilla trekking sector
Nsonji, Mishaya, Bweza, Kahunjye, Businjye, Rwiji, Muchunguzi and Bikyinji Gorilla groups in the Rushaga Gorilla trekking sector
Habituated Gorilla Family in Mgahinga Gorilla National Park
Mgahinga Gorilla National Park is the smaller Uganda gorilla safari park with one gorilla family known as Nyakagezi Gorilla Family. The Nyakagezi gorilla family has 10 family members including led by silverbacks Mark and Mafia who took over from their father silverback Bugingo who now happily plays the role of grandfather; there are 2 other silverbacks known as Rukundo and Ndungutse, 2 female adults known as Nshuti and Nyiramwiza and 3 youngsters. This group is unique for gorilla trekking because the family has 6 silverback gorillas living in harmony within the same group; this is a unique family of all the gorilla families in Uganda.
Habituated Gorilla Families in Volcanoes National Park
Volcanoes National Park is the only gorilla safari in Rwanda destination with several habituated gorilla families for gorilla trekking.  The gorilla families include Igisha gorilla family, Susa gorilla family, Karisimbi gorilla family, Amahoro gorilla family, Sabyinyo gorilla family, Agashya gorilla family, Umubano gorilla family, Kwitonda gorilla family, Hirwa gorilla family, Ugyenda gorilla family, Bwenge gorilla family and Muhoza gorilla family.
Habituated Gorilla Families in Virunga National Park
Virunga National Park is the top Congo gorilla safari destination found within the Virunga Mountain ranges. Virunga National Park is home to 8 gorilla families which are known as Rugendo gorilla family, Munyaga gorilla family, Mapuwa gorilla family, Lulengo gorilla family, Kabirizi gorilla family, Bageni gorilla family and Nyakamwe Mountain gorilla family. These gorilla families are each head by a male silverback gorilla who leads the family in all of the activities.
Habituated Gorilla Families in Kahuzi Biega National Park
Kahuzi Biega National Park is habitat to the lowland gorillas of Congo making the country the only world destination with both mountain and lowland gorillas. There are 2 habituated gorilla families for trekking in Kahuzi Biega National Park named Chimanuka and Mugaruka respectively. The Chimanuka gorilla family is led by the lead silverback Chimanuka consisting of about 36 gorillas. This is one of the biggest gorilla families a traveler can ever encounter in the wild.
Recommended Uganda gorilla safaris
3 days Uganda gorilla safari Bwindi
3 days gorilla habituation safari Uganda
4 days Bwindi gorilla trekking flying safari
5 days gorilla and white water rafting safari
5 days Bwindi gorilla safari and Queen Elizabeth wildlife tour 
In case you would love to book a gorilla safari to Uganda you can reach us on these emails – wildjungletrails@gmail.com, tours@wildjungletrails.com or call us on (+256) 777690798 / (+256) 414663115.
Authored By  Wild Jungle Trails Safaris