Queen Elizabeth National Park Uganda
Queen Elizabeth National Park is undoubtedly one of the popular Uganda wildlife safari destinations known for the tree climbing lions in the remote ishasha sector.
Queen Elizabeth Park Uganda spans the equator line and is home to over 95 mammal species and 600 bird species.
This is a guide on all of the relevant information about Queen Elizabeth Park ranging from Background, Location, attractions, activities, best time to visit the park, how to get there by road and air, Uganda safaris to Queen Elizabeth National Park and accommodation facilities;
Location of Queen Elizabeth Park Uganda
The about 1,978 square kilometers scenic Queen Elizabeth Park is situated in the western region of Uganda spanning the districts of Kasese, Kamwenge, Rubirizi and Rukungiri. Sitting in a very diverse region, the park includes the Maramagambo Forest bordering the Kyambura Game Reserve, Kigezi Game Reserve and Kibale Forest National Park in Uganda. Queen Elizabeth Park extends from Lake George in the north-east to Lake Edward in the south-west connected by the 36km long Kazinga channel a popular boat cruise spot for many Uganda wildlife safari tourists
History / Background of Queen Elizabeth National Park Uganda
Founded in 1952 as Kazinga National Park, the area covered by Queen Elizabeth National Park was a grazing area for the local Basongora pastoralists. As a result of cattle raiding from the Bunyoro and Buganda kingdoms, the area became highly depopulated and the Basongora social economy could not recover from these events and most of them turned to fishing.
This allowed game population to increase and vegetation change significantly. In 1906 the British protectorate government declared the area north of Lake George a game reserve to prevent unregulated hunting. In 1912, further gazetting was done with the whole of Lake George and ishasha areas declared restricted areas, this pushed communities further leaving the place abandoned. Following lobbying from the then chief warden Bruce Kinloch Queen Elizabeth Park then known as Kazinga National Park was legally gazette in late 1952.
Best time to visit Queen Elizabeth Park Uganda

The best time of the year to visit Queen Elizabeth National Park is during the dry season months of the year between the months of June – August and December to February. During this time, the rains are less and animals are concentrated close to the water points making it easy to see all of the dramatic side of the wild. In the dry season still, roads are not flooded or made impassable by rains making tours more lively.
However, if you plan to tour Uganda in the dry season remember to book accommodation facilities early since tourists flock the country at this time and prices get high as well as space fully booked.
How to get to Queen Elizabeth Park Uganda
Queen Elizabeth National Park is about 398km from Entebbe International Airport which is Uganda's International Airport. On a fairly tarmacked Mubende –Kyenjojo road, it's a 6h 37min drive (fastest route). Via Mbarara-Kasese Rd, Mbarara –Masaka Rd it's a 7h 30min drive on a distance of 448km (popular route).
From Kampala (Uganda's capital) the park is 370km away on a 6h 20min drive along the fastest route. Along Mbarara-Kasese Rd, Mbarara-Masaka Rd it takes a 7h 17min drive.
From Kigali, Rwanda via Ntungamo – Katunguru road, Queen Elizabeth National Park is 332km distance with a drive time of 5h 43min.
From Entebbe International Airport to Mweya Airstrip, it's a 1 hours' flight by Aerolink Uganda. From Mweya Airstrip, Queen Elizabeth Park is 55.3km away taking 1h 8min drive along Hima – Katunguru road.
Your Route to Queen Elizabeth Park Uganda

Attractions / what to see in Queen Elizabeth Park Uganda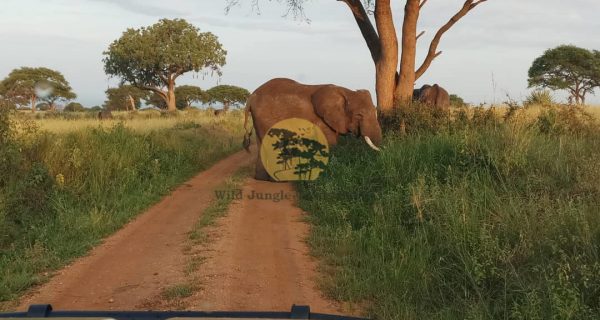 1. Wildlife in Queen Elizabeth Park
Known for its profusion of wildlife, Queen Elizabeth National Park is a popular Uganda wildlife tour destination because its home to about 95 mammal species (more than any other Uganda safari park). Wildlife species seen at Queen Elizabeth National Park include Elephants and buffaloes (common), lions (tree climbing lions), Hyenas, African Leopard, Buffaloes, antelope species like the Uganda Kob, topi and bushbuck.
The hippos and crocodiles can be seen at the Kazinga channel, Crocodiles have just reappeared after they had disappeared for thousands of years due to toxic ash from local volcanoes that eliminated them. Primate species like the black and white colobus monkey can be seen. Chimpanzees have also been habituated for tracking by Uganda chimpanzee trekking safari tourists. These are found in the Kyambura Gorge.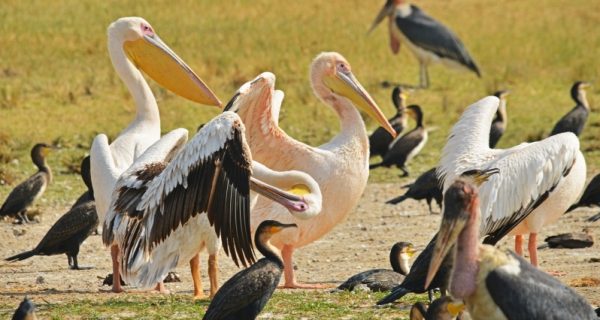 Birds in Queen Elizabeth Park
Over 600 bird species are hosted within the boundaries of Queen Elizabeth Park. This is the only Uganda tour park with such a big number of bird species within its boundaries making it an ideal Uganda birding safari destination. With this number of bird species the park is positioned as the second highest bird Population Park in Africa and 6th highest in the world. Bird watching tourists can expects to spot birds such as the Grey Wood Pecker, Cuckoos, Speckled Tinker bird, Purple-headed Starling, White-spotted fluff tail, Spur-winged Plovers, African Fish Eagle, African Jacana, Cormorants, Pied Kingfishers, Black Crake, Water-Thick Knee, Malachite, Martial Eagle, Grey-headed Kingfisher, Papyrus Gonolek and many more. The greater and lesser flamingos seasonally visit Lake Munyanyange close to Queen Elizabeth Park and a birder could easily spot them between October and April.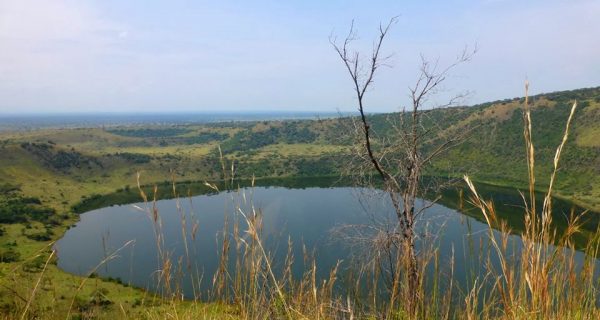 2. Crater lakes
Evidence to the past times bubbling volcanic activity, the huge round basins scattered across the equator are scenic crater lakes to sight on a Queen Elizabeth Park tour. The 27km drive between Kabatoro gate and Queen's Pavilion offers the most views of these crater lakes. The crater fields include the Katwe Explosion Craters, Bunyaraguru Crater Field on the Kichwamba escarpment and the beautiful Ndali-kasenda Crater field close to Kibale Forest National Park. The craters are a beautiful place for great views and splendid hiking.
Activities / What to do at Queen Elizabeth National park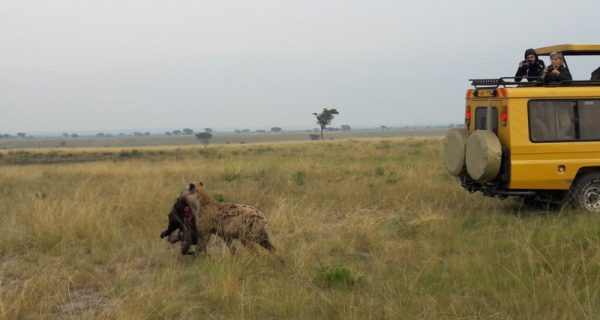 Game drives in Queen Elizabeth National Park
The best way of sighting wildlife in Queen Elizabeth National Park is by undertaking a game drive through the trails of the park. On a safari to Queen Elizabeth Park, there's an option of choosing either a morning or evening game drive. On a game drive, there are chances of sighting most of the wildlife species in the park along with the help from your Uganda wildlife tour guide. A Morning game drive starts at 8:00am and lasts about 2-4 hours. Big cat lovers must include a game drive in their itineraries.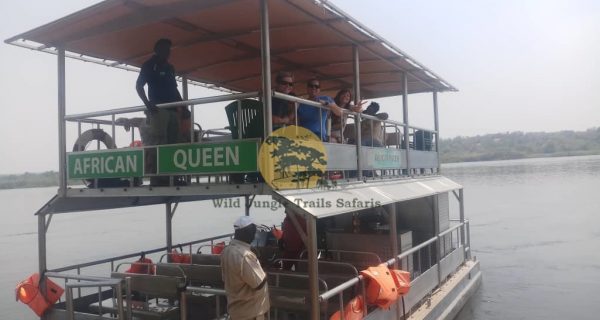 Boat cruise / Launch trip on the Kazinga channel
Since the park is connected by the almost 40km long Kazinga channel, a boat cruise is a must do activity for tourists on a visit to the park. Usually, each day the boat sets off at either 9:00am local time or at 2:00pm in the afternoon taking tourists along the hippo filled shores of the channel with sights of the elephants roaming around the shores. There also several bird species along the shores. The boat cruise / launch trip on the Kazinga channel lasts about 2 hours and is memorable no matter the time of the day.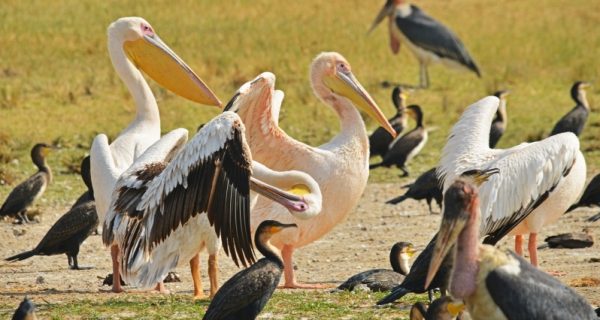 Birding in Queen Elizabeth Park
Bird watching is one of the Queen Elizabeth National Park activities due to the several bird species within the park. With beautiful birds like the White-spotted fluff tail, Spur-winged Plovers, African Fish Eagle, African Jacana, Cormorants, Pied Kingfishers, Black Crake, Water-Thick Knee, Malachite, Martial Eagle, Grey-headed Kingfisher, Papyrus Gonolek and many more birding in Queen Elizabeth Park is rewarding. For Uganda birding safaris tourists, the best time for birding in the park is between December – February.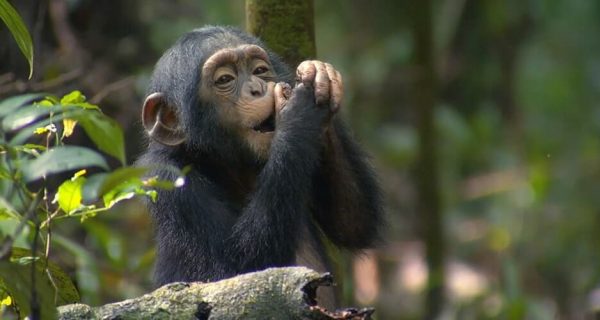 Chimpanzee tracking
Safari Uganda tourists to Queen Elizabeth National Park can track chimpanzees at the Kyambura Gorge. The Kyambura Gorge is also known as the valley of apes situated in the far eastern corner of the park. Approximately 1km across at its broadest point and about 100 meters deep, this is one of the scenic places a traveler can ever visit. Though host to a small number of chimpanzees compared to other destinations like Kibale Forest National Park and Budongo forest the Kyambura gorge offers an experience of walking within a densely forested valley. Walking through the valley floor, the trek is amazing as tourists come along other primate species. This is a perfect add on to any trip to Queen Elizabeth National Park.
Popular Uganda Safaris to Queen Elizabeth Park Uganda